WHY YOU SHOULD COME
Everything you need is right here
The beauty of the Giens Peninsula and the Golden Islands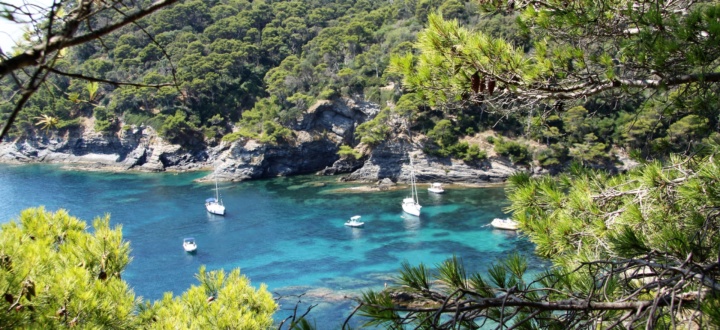 An exceptional and protected site with a double tombolo which links Giens to the coast. Between the two stretches of sand, the former salt marches have been dedicated to the protection of natural species. You could watch there over  200 bird species including our star: the flamingo. A day on the islands, Porquerolles, Port-Cros ou le Levant will be the must of your vacation in Hyères.
3min walk from the beach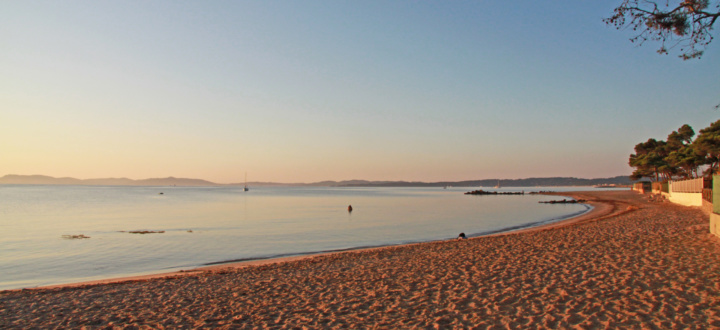 In a residential area nestled under a magnificent pine forest, you'll enjoy the peace of a large garden. To go to the Pesquiers Beach, it's straight out at the end of the street.
On the Peninsula you will have the choice : more than 20 beaches available to you on whether you like waves, deep water, peaceful area or lively family beaches, sandy beaches or hidden creeks.
A charming, authentic and generous house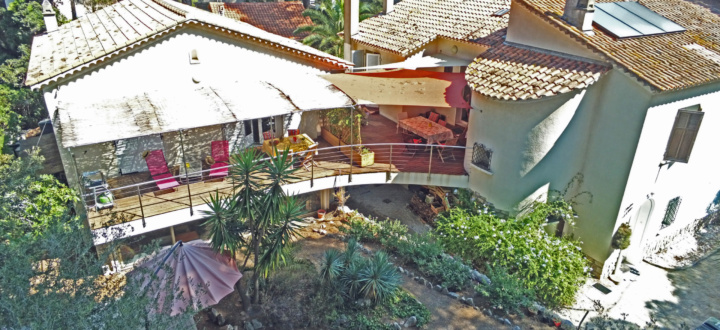 In this large villa, you will be welcomed in seamless simplicity and conviviality for your family vacation or  with friends. 
Located in the residential district of Les Pesquiers, you will enjoy its peaceful environment while being close of the life of the Hyères Port or the animation of the village of La Capte.
You'll enjoy its large garden into which the air is heady with the mingled scents of pine trees, orange flowers, palm and other Mediterranean plants.
In summer, le song of the cicadas will rock you.
Accommodations
Two apartments for 4/5 people are at your disposal
For your next summer holiday or for a few days' rest …
You'll love
Serenity and calm even in the heart of the summer
Back from the summer beach animation, you'll appreciate the peace and quiet oasis of the house nestled under the pine trees and surrounded by large family villas
Everything you wish is a stone's throw away
The villa is ideally situated: 3min from the beach, but also 10min from the marina life with its shops, restaurants and bars or 10min of the charming village of La Capte.
Respect for the environment
Selecting sorting, hot water powered by solar panels, waste composting … we do everything we can to reduce the carbon impact of your stay
Carefree holidays
You don't know how to get from the train station or the airport? Would you like to avoid having to do the shopping on arrival? Wondering what to pack in your suitcase? Would you like some help with housework during your stay? Would you like a nanny for an evening out?
Would you like to know the addresses of restaurants or local producers where you can buy your vegetables?
Gallerie
Dream of your next stay in Hyères while browsing the gallery
The sea, the beach, the islands, the country side…you will fall in love with Hyères!
After a great morning on the beach, en route for the city!. You'll be surprised to know that Hyères has been one of the first destinations for who were called the "hivernants". Tourists before time, the came to Hyères to enjoy the mild winter. The English loved this city where the orange blossoms.. Some magnificent villas from the beginning of the 20th century testify to their coming.
A vast territory rich in a generous nature.
The Presqu'île de Giens with its double tombolo, the aptly named Golden Islands, and the exuberant flora are all testimonies of an exceptional environment to be preserved. Palm trees, bougainvilleas, orange and lemon trees grow in profusion.
The hinterland with its vineyards and orchards of peach, apricot and fig trees is also a delight: the Provencal countryside 5km from the sea...
Ils sont ravis, ça fait plaisir... et ça donne envie d'en faire encore plus!
Les commentaires des derniers vacanciers
Bel appartement avec une grande terrasse sous la pinède pour des moments de détente. Plage à deux pas et équipement bébé ! A refaire avec plaisir !
Côté Pinède - Mai 2019
Victor, France sur Airbnb
tout était parfait l'accueil ...........que des compliments à faire propriétaire très investie pour ses locataires une très très grand merci ......................
Claude, France sur Airbnb
Nous avons été accueillis avec beaucoup d'attentions. A notre arrivée, il y avait du thé, du café, et même des boissons fraîches dans le frigo! L'appartement est très bien aménagé et nous nous sommes sentis tout de suite chez nous. Niché au sein de son extraordinaire pinède, le quartier tranquille des Pesquiers est un magnifique lieu de vacances. Les premières plages sont à quelques minutes à pied et le port de Hyères est proche. Bref, ce séjour était parfait! Nous y retournerons !
Coté Jardin - Aout 2019
Isabelle, France sur Airbnb
Le cadre est parfait La maison est bien équipée Une hôte très sympathique et réactive A 50 mètres de la mer une semaine reposante comme nous l avions souhaité On reviendra...... Côté Pinède - Aout 2019
Marylou - France sur Airbnb
Fantastic! Wonderful host, very helpful with great suggestions and advive. It is a clean, stylish apartment, with an amazing deck. The location is amazing, just a 3-4 min walk to the beach, in a beautiful neighbourhood. Côté Pinède - Juillet 2019
Samara, Canada sur Airbnb
Tout a été parfait, l'accueil, la maison la propreté, l'emplacement et les équipements. Le jardin et le chant des colombes un bonus supplémentaire. Merci beaucoup à Hélène pour la gentillesse et discrétion, nous avons énormément apprécié. Un logement à louer sans surprises pour passer de belles vacances au calme et près de la mer.
Côté Pinède - Septembre 2019
Dario - Suisse sur Airbnb